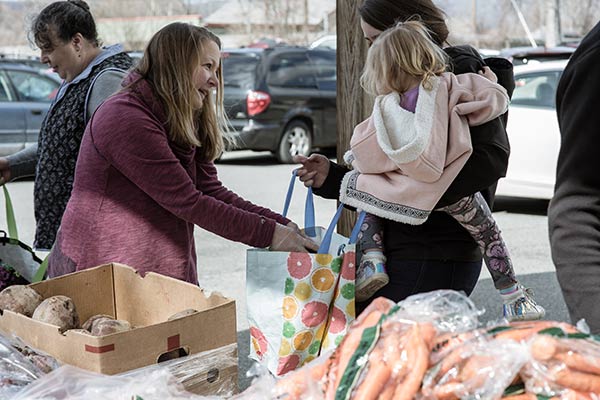 Subscribe to CHP's Nutrition Club Channel on YouTube!
CHP Nutritionist, Hannah Paterson, hosts a dynamic series of cooking demonstrations using food distributed through the Nutrition Club program. Check it out today!
Looking for some quick, printable recipes?
Click here. for a few of our favorites!
Opportunities for support through CHP
Mobile Food Bank
CHP hosts the Western Massachusetts Food Bank, which distributes healthy, nutritious food to everyone, free of charge.
Great Barrington Distribution | CHP Main Campus
444 Stockbridge Road, Great Barrington
• The first Tuesday of each month  from 11:00 am–12:00 pm | Rain or shine

Dalton Distribution | Mill + Main (Dalton CRA)
444 Main Street, Dalton
• The fourth Wednesday of each month  from 11:00 am–12:00 pm | Rain or shine
Sign-in starts 1/2 hour before distribution
One portion of each item will be available per household
Please bring bags or a cart to carry your food
No proof of eligibility required
**Emergency food may be available by contacting our WIC staff at 413-528-0457.**
SNAP Food Assistance
Appointments for the SNAP (Supplemental Nutrition Assistance Program) food assistance program:
Dalton | 10:00 am–3:00 pm
1st Wednesday of each month
Great Barrington | 10:00 am–3:00 pm
2nd Wednesday of each month
To schedule your visit, call (413) 528-0457. You will be asked to bring along some important verification documents. 
Want to speed up your application process? Visit the SNAP eligibility website to find out if you qualify.
Diaper Distribution
Depending on availability, free diapers are available to our families.
Emergency Food – Project Milk Fund
Project Milk funds are distributed only when other food program options have been exhausted—when families are clearly in crisis. Call (413) 528-0457.
Fuel Assistance
Berkshire Community Action Council has appointments for fuel assistance (LIHEAP) at our Family Services Building in Great Barrington and the Mill + Main Dalton CRA building.
Appointments are required and can be made by calling BCAC at (413) 418-3691. Fuel Assistance information, guidelines, and forms can be found on the BCAC website.
Clothing Exchange
Free clothing (newborn through 6) is available at the CHP Family Services Building Monday through Friday from 9 am– 4 pm.
Donations in excellent condition are gratefully accepted. Please do not leave donations outside the CHP facility after business hours.
CHP hosts two huge consignment sale events annually. Our May event, located in Great Barrington, features Spring/Summer items, and our NEW September event, located in Dalton, features Fall/Winter items.  
Local families will be selling quality maternity and children's items including seasonal clothing, toys, videos, games, books, baby equipment, and lots, lots more!
To find out more call (413) 528-0457.
Book Exchange
CHP Family Services has a large selection of used children's books for ages birth-12 years. Some Spanish-language books are available.